Energy efficient hydraulic system
Eco Power Unit
Innovative solutions
Designed to meet tomorrow's requirements
It started out in the ferry market. To keep up with environmental and financial requirements, we had to think new. Today the DIMO EPU is in operation on multiple ferrys, live fish carriers, trawlers and service vessels for fish farming.

The EPU delivers energy savings, lower total costs
and lower noise emissions in all segments.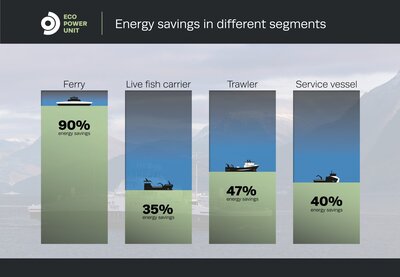 Tested and proven
Energy savings
Compared to a conventional HPU, the EPU-loggings show significant energy savings in multiple segments.

The EPU has fewer components and moving parts, resulting in greater reliability and reduced maintenance costs.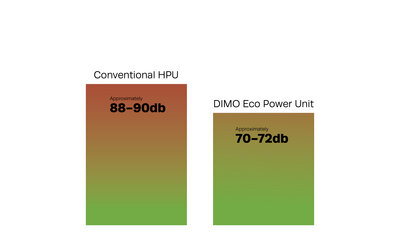 Lower noise emissions
100 times less noise
The EPU provides a quieter and more comfortable work environment, reducing the risk of hearing damage.

In comparison to daily life, 70db equals the sound of a a vacuum cleaner or a hair dryer, while 90db equals a lawn mower or a chainsaw.
Ferry market
90% less energy consumption
The DIMO Eco Power Unit is in operation on more than 30 ferries. The main task is operating the ferry gate and the gangway. Compared to a conventional HPU, loggings show that the energy consumption is up to 90% less with the EPU.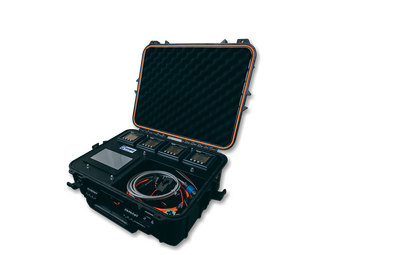 Retrofit - Estimate your savings
The DIMO EPU logging suitcase is a tool for hydraulic power optimization. By logging your existing HPU's work cycle, it can calculate and simulate the same work performed by the DIMO Eco Power Unit. It measures each motor and its load, and compares this data to simulations to estimate the loss in your system compared to an EPU.

The suitcase provides you with a detailed analysis of your HPU's performance. This information allows you to see the potential savings you could make by switching to the DIMO EPU, including an estimation of the repayment period.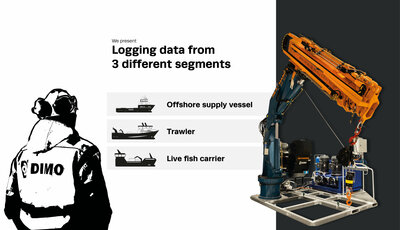 Book a meeting
We have conducted loggings in various maritime segments to collect data and demonstrate the positive impact on energy, economy and working hours.

To demonstrate the benefits of choosing an EPU, we have also set up our own EPU stand in our production facility at Hareid. This stand allows visitors to experience the fast response time, the intuitive control panel, as well as to compare the noise levels between a conventional HPU and an EPU.