Support and service
Winches
Service and repair
All types of winches
DIMO Service Center offers maintenance, repair, and servicing for all types of winches, with extensive access to a wide range of spare parts. This ensures that we can promptly source and replace any faulty components as needed.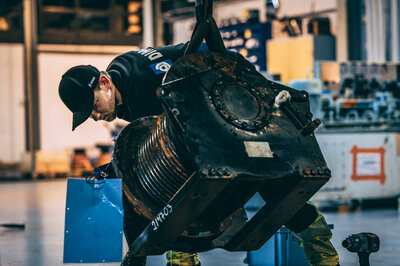 Winch service
Thorough winch repair
Our service team inspects the winches thoroughly, dismantles them and replaces any faulty parts such as brakes, gaskets, bearing etc. After removing rust, we apply rust-resistant coatings and 3-component paints to ensure that your winches remain in excellent condition.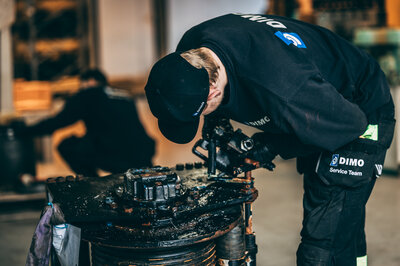 Long lasting
As good as new - or better
We offer testing services to ensure that your winches are in perfect working order before we deliver them to you. The winches come out as good as new, if not better, with better rust protection and long-lasting durability against wear and tear.
Br.Rogne, ABW and OBW Winches
Product support and service
Background
Br.Rogne is a company with roots back to 1946, producing High Pressure Hydraulic and electric AC driven winches. The company was acquired by Aker ASA in 1997 and ODIM ASA in 2008, further into Rolls-Royce Commercial Marine in 2010. Kongsberg Maritime acquired Rolls-Royce Commercial Marine in 2019, hence this product is now owned by KONGSBERG.
Notification of change
To maintain and improve the service level, KONGSBERG have decided to go into a cooperation with DIMO AS on serving these products. The Product Support and aftermarket business is from 1st of May 2021 handed over to DIMO AS, which will support the products on behalf of KONGSBERG. DIMO AS will support all Br. Rogne/ABW/OBW customers with field service, technical support and spare parts.
If you require any of the mentioned services, please contact DIMO AS: office@dimo.no